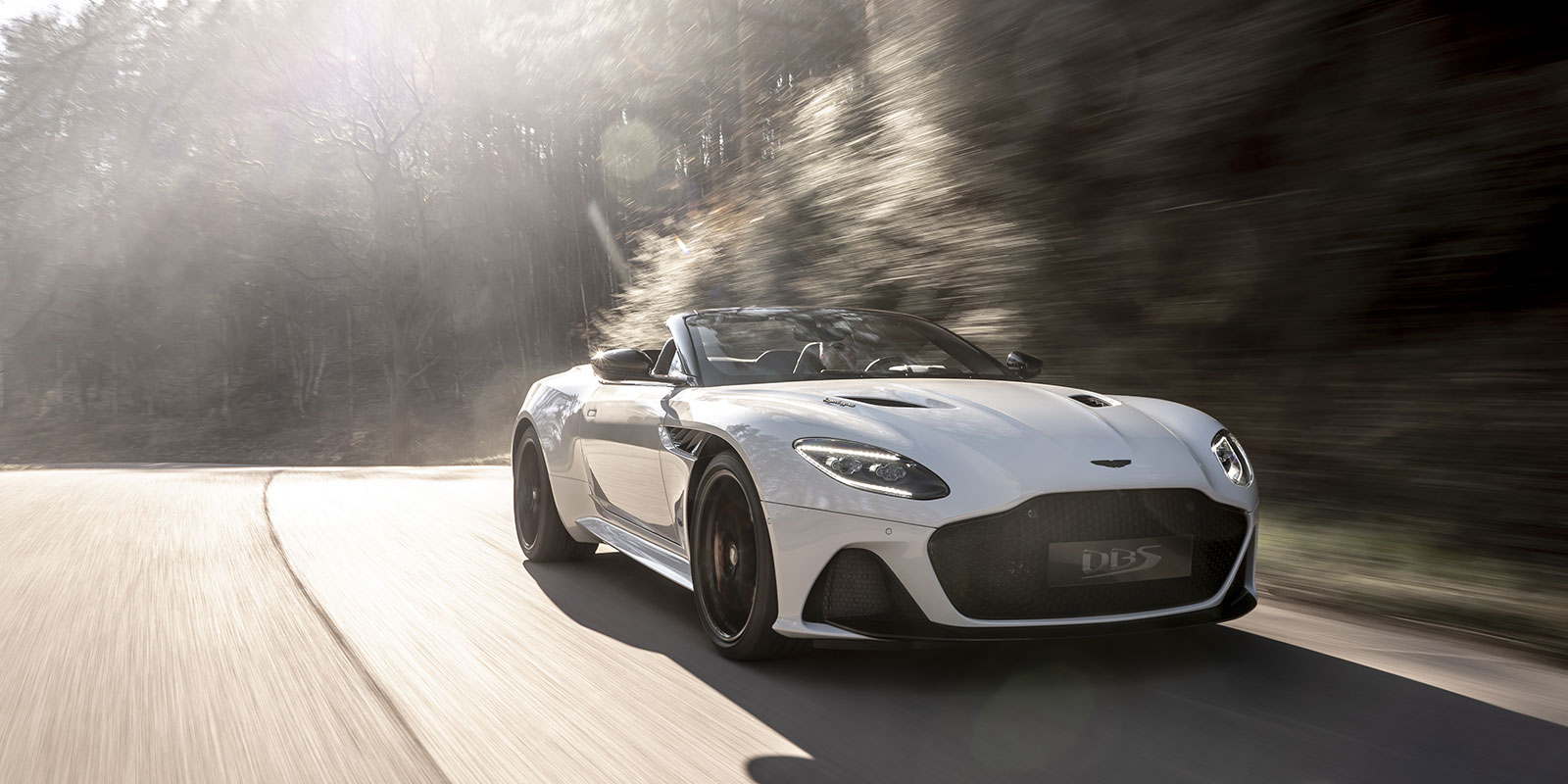 Performance
The heart of Vantage AMR remains Aston Martins potent new alloy, 4-litre twin-turbo V8 engine. Set low and as far back in the chassis as possible for optimal centre-of-gravity and near perfect 50:50 weight distribution, this high performance, high efficiency engine develops 510PS at 6000rpm and 625Nm from 2000-5000rpm, propelling Vantage AMR from 0-60mph in 3.9 seconds and 0-62mph in 4.0 seconds*. As with the existing Vantage model, top speed is met at 195 mph*. However, while performance is still at the forefront of all Vantage models, its delivery in the Vantage AMR is very different.
Vantage AMR is equipped with a motorsport-inspired 7-speed transmission developed by Graziano, featuring a dog-leg first gear. Inside, the driver is presented with the opportunity to deliver each gear with both precision and finesse via a hand-stitched leather-clad gearstick. Second to seventh gears those that will be used most frequently when on the move are positioned in a traditional double H-pattern configuration. To ensure a more rewarding and engaging experience expected of a manual, Vantage AMRs transmission is mated to a limited-slip differential, tuned and calibrated by Aston Martins leading dynamics team, headed by Chief Engineer Matt Becker, from the teams base at Silverstone Race Circuit.
Transmission
Vantage AMRs manual transmission also features AMSHIFT. The system, which is driver selectable, uses clutch, gear position and prop shaft sensors, together with finely-tuned engine management program to mimic the technique of heel-and-toe downshifts; the act of blipping the throttle while braking and changing gear to allow smoother deceleration and cornering as a result. AMSHIFT also offers the capability of full-throttle upshifts for maximum smoothness and minimal interruption in acceleration.
Removing the automatic transmission and including carbon ceramic brakes as standard not only creates a purer driver experience, but also assists in removing 95kg of weight. Known for its handling prowess already, Vantage AMR pushes the boundaries further and continues to exploit Aston Martins latest adaptive damping system incorporating Skyhook technology – with Sport, Sport + and Track modes to ensure the cars character can be tuned to the drivers preference or road conditions.
Production
Limited to 200-units, Vantage AMR is available in five designer specifications. 141 of those 200 will be available in either Sabiro Blue, Onyx Black, China Grey or White Stone. In contrast, the final 59 will be crafted in celebration of the 60th anniversary since Aston Martins triumphant 1959 24 Hours of Le Mans victory with DBR1. Named Vantage 59, this fixed specification features a Stirling Green and Lime exterior paint scheme and Dark Knight leather and alcantara interior, finished with a signature AMR lime stripe and stitch.
*PRICE(S) INCLUDE(S) ALL COSTS TO BE PAID BY A CONSUMER, EXCEPT FOR $497 DOCUMENTATION FEE, LICENSING COST, REGISTRATION FEES, AND TAXES.
CURRENTLY, FC KERBECK DOES NOT SELL OR LEASE CARS IN THE STATES OF MT, OR, NH OR AK, SORRY FOR ANY INCONVENIENCE. FC KERBECK MAKES EVERY EFFORT TO PROVIDE FULL AND ACCURATE INFORMATION. HOWEVER, BECAUSE ERRORS MAY OCCUR, PLEASE CONTACT US TO VERIFY OPTIONS, PRICES AND REBATE/INCENTIVE INFORMATION BEFORE PURCHASING. ALL VEHICLES ARE SUBJECT TO PRIOR SALE. ALL NEW VEHICLE PRICES INCLUDE THE DESTINATION CHARGE (FREIGHT COST). ALL PRICES EXCLUDE STATE TAXES AND FEES, MOTOR VEHICLE REGISTRATION CHARGES, AND PROCESSING FEES. ALL TAXES AND FEES WILL BE PAID TO THE LEGALLY APPROPRIATE STATES. PRICES MAY NOT BE COMBINED WITH ANY OTHER PAST, PRESENT, OR FUTURE OFFERS OR ADVERTISED PROMOTIONS OR SPECIALS. PRIOR SALES, INBOUND AND ORDERED VEHICLES EXCLUDED FROM CURRENT PRICE OFFERS. SALE TO ULTIMATE RETAIL CONSUMER ONLY, ONE VEHICLE PER CUSTOMER. NO SALE OR LEASE TO AUTO DEALERS, DEALER'S AGENTS, MANAGEMENT, SALES STAFF OR EMPLOYEES OF DEALERS, LEASING COMPANIES, BROKERS, EXPORTERS, ETC. NO SALE TO ANY PERSON OR COMPANY APPEARING ON ANY EXPORT LIST OR WHICH HAS THE SAME ADDRESS AS ANY PERSON OR COMPANY APPEARING ON ANY EXPORT LIST. TO THAT SAME END, FC KERBECK RESERVES THE RIGHT, AT ANY POINT DURING A TRANSACTION, TO PREVENT SALE TO ANY PERSON OR COMPANY THAT MAY NOT BE A PERMANENT RESIDENT OF THE US, MAY LIVE OR WORK OUTSIDE OF THE US.
We disclose every pre-owned vehicle with a minimum of $1000 prior repairs, when most dealers fail to disclose any/all repairs. Our goal is to provide you with the details of the vehicles history so you can buy with confidence here at Kerbeck.
BBB RATING: A+
HOURS OF OPERATION:
Monday-Friday: 9:00AM - 8:00PM
Saturday: 9:00AM - 6:00PM