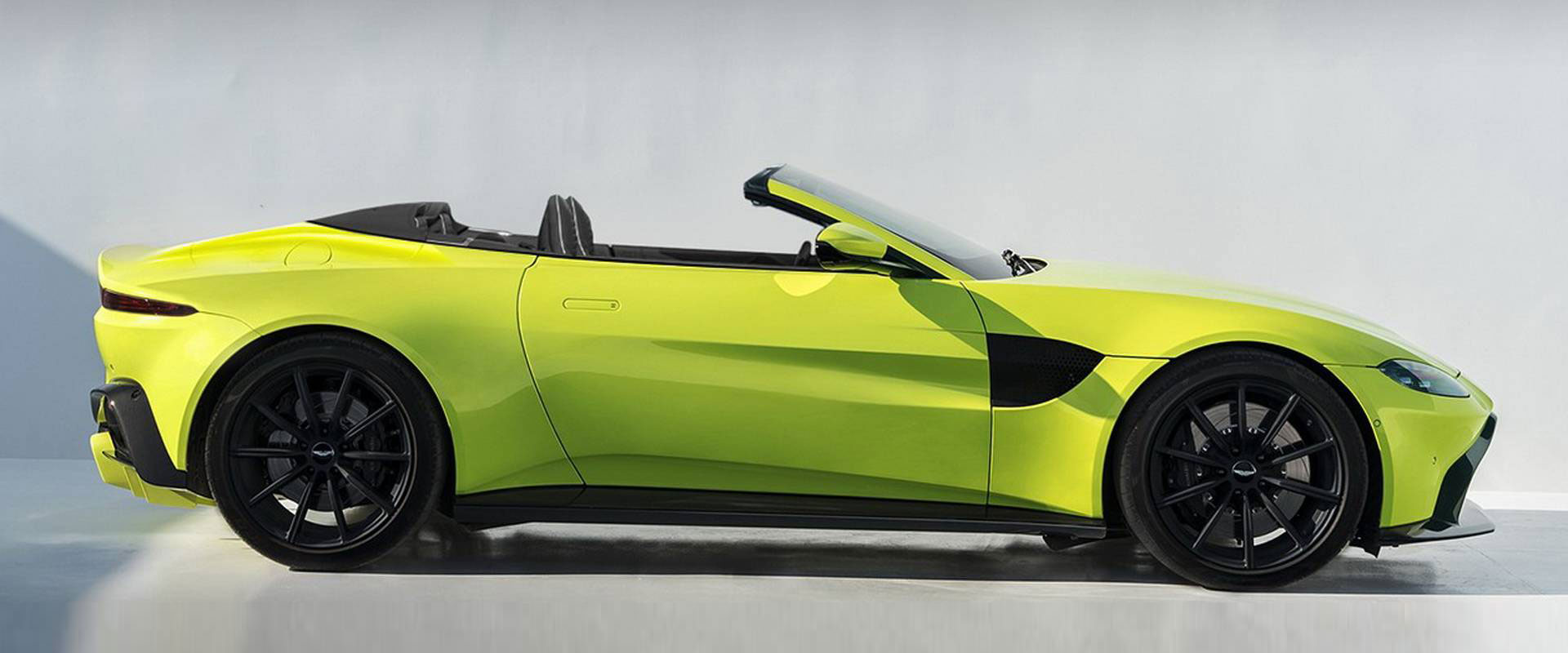 A Born Predator
Vantage Roadster is the perfect partner to the Coupe, designed side by side they sit together united in their commitment to providing the ultimate driving thrills. A convertible which amplifies the emotional appeal of a model renowned for delivering a compelling blend of potent performance, outstanding dynamics and everyday usability.
Vantage Roadster is raw and instinctive, unwavering in its singular purpose: to overwhelm the senses through its world-renowned design, agile performance and dedicated craftsmanship. Its heart beats with a high powered 4.0 litre twin-turbocharged V8, producing that visceral Aston Martin roar. A rare breed and a statement of independence on the road, Vantage Roadster embodies all that is beautiful in our performance sports car range. Race track, winding country road or the everyday commute, Vantage Roadster is an Aston Martin of outstanding class, delivering a drive so intensely felt that it demands to be experienced time and time again.
Unmistakable Presence
Like the archetypal hunter, everything has been finely tuned for a purpose. Sculptural forms create an athletic predatory stance, while muscular flanks and broad haunches express the agility and dynamism inherent to the car. The Vantage Roadster is a bold and extrovert combination, inspired by high-tech and contemporary sportswear. Vibrant Lime Essence injects an extra boost of energy to the sporty silhouette, reinforced by the efficient and lightweight characteristics of Carbon Fibre.
The signature ultra-slim rear light graphic illuminates the full-width of the tailgate, accentuated by the flick in the Vantage's tail. It provocatively expresses the car's animalistic character in what is set to become an iconic symbol of performance. The nose of the clamshell bonnet is pitched towards the ground as if hunting its prey. Distinctive and assertive features like the three-dimensional S curve surrounding the meshed grille, or the focused expression of its ultra-slim LED headlights, instantly portray Vantage's beautifully intense visual character.
Pure Emotion
While Vantage Roadster mirrors the Coupe's exceptional tactility, pace, and cornering performance, the design of the body is very much its own. The heart of the Vantage Roadster beats with a 4.0 litre twin-turbocharged V8 engine. Impressive acceleration of 0-62 mph in 3.6 seconds and a speed of up to 195 mph deliver raw athleticism and an enticing performance feel.
A New Breed Is Born
The distinctive cockpit feel of the interior now built for the top down is one of absolute focus and functionality. A lower driving position creates a more immersive experience, intimately connecting the driver with the car and the road ahead.
*PRICE(S) INCLUDE(S) ALL COSTS TO BE PAID BY A CONSUMER, EXCEPT FOR $497 DOCUMENTATION FEE, LICENSING COST, REGISTRATION FEES, AND TAXES.
CURRENTLY, FC KERBECK DOES NOT SELL OR LEASE CARS IN THE STATES OF MT, OR, NH OR AK, SORRY FOR ANY INCONVENIENCE. FC KERBECK MAKES EVERY EFFORT TO PROVIDE FULL AND ACCURATE INFORMATION. HOWEVER, BECAUSE ERRORS MAY OCCUR, PLEASE CONTACT US TO VERIFY OPTIONS, PRICES AND REBATE/INCENTIVE INFORMATION BEFORE PURCHASING. ALL VEHICLES ARE SUBJECT TO PRIOR SALE. ALL NEW VEHICLE PRICES INCLUDE THE DESTINATION CHARGE (FREIGHT COST). ALL PRICES EXCLUDE STATE TAXES AND FEES, MOTOR VEHICLE REGISTRATION CHARGES, AND PROCESSING FEES. ALL TAXES AND FEES WILL BE PAID TO THE LEGALLY APPROPRIATE STATES. PRICES MAY NOT BE COMBINED WITH ANY OTHER PAST, PRESENT, OR FUTURE OFFERS OR ADVERTISED PROMOTIONS OR SPECIALS. PRIOR SALES, INBOUND AND ORDERED VEHICLES EXCLUDED FROM CURRENT PRICE OFFERS. SALE TO ULTIMATE RETAIL CONSUMER ONLY, ONE VEHICLE PER CUSTOMER. NO SALE OR LEASE TO AUTO DEALERS, DEALER'S AGENTS, MANAGEMENT, SALES STAFF OR EMPLOYEES OF DEALERS, LEASING COMPANIES, BROKERS, EXPORTERS, ETC. NO SALE TO ANY PERSON OR COMPANY APPEARING ON ANY EXPORT LIST OR WHICH HAS THE SAME ADDRESS AS ANY PERSON OR COMPANY APPEARING ON ANY EXPORT LIST. TO THAT SAME END, FC KERBECK RESERVES THE RIGHT, AT ANY POINT DURING A TRANSACTION, TO PREVENT SALE TO ANY PERSON OR COMPANY THAT MAY NOT BE A PERMANENT RESIDENT OF THE US, MAY LIVE OR WORK OUTSIDE OF THE US.
We disclose every pre-owned vehicle with a minimum of $1000 prior repairs, when most dealers fail to disclose any/all repairs. Our goal is to provide you with the details of the vehicles history so you can buy with confidence here at Kerbeck.
BBB RATING: A+
HOURS OF OPERATION:
Monday-Friday: 9:00AM - 8:00PM
Saturday: 9:00AM - 6:00PM