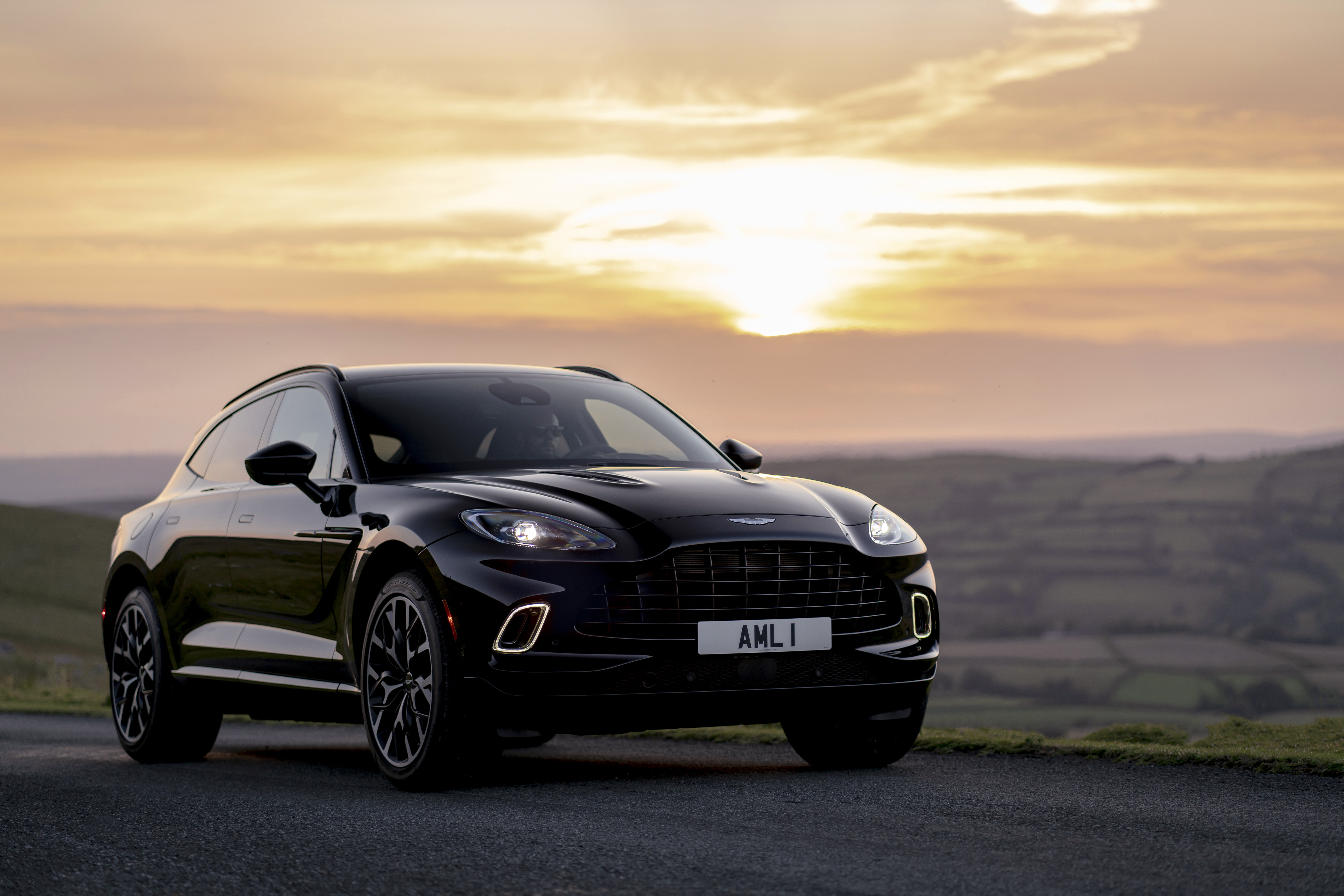 ASTON MARTIN'S FIRST SUV
Our first SUV, DBX, is a new kind of Aston Martin, one founded on the principles of beauty, luxury, and driving dynamics. Ready to go anywhere, it's powered by the spirit of adventure. Built on brand-new architecture, DBX is designed to carry occupants in true Aston Martin style. Brimming with the latest technology to keep you safe, DBX is comfortable, sumptuously luxurious, and will thrill you from the moment you sit behind the wheel. Our luxury SUV maintains a proud heritage as an Aston Martin DB: the initials belong to David Brown, the man who defined Aston Martin and whose vision continues throughout the company to this day.
AN ASTON MARTIN IN SUV FORM
DBX celebrates the Aston Martin design language in a new form. With a unique body architecture just for DBX, the design and proportions reflect the unmistakeable style of an Aston Martin.
SHAPED FOR ADVENTURE
First seen on a DB2 prototype in 1949, the Aston Martin grille provides a distinctive and evocative face for DBX. Integral to its design, it dictates the muscular curvature of the bonnet and the way it clothes the mighty powertrain.
INNOVATION TO TAKE YOU ANYWHERE
Active all-wheel drive with variable torque distribution and height-adjustable air suspension, all provide DBX with the confidence and versatility you need for life's great adventures. It will never compromise how it gets you there. The dramatic shape of the doors provides DBX with an astonishing profile, emphasizing the unique sculpture of modern Aston Martins. At the back, the distinctive ducktail with its sleek, signature LED light blade, recalls the styling of our flagship sportscar, Vantage. The daytime running lights have been separated from the main headlights adding to the car's commanding presence. These surround two air inlets that control the flow of air along the side of the car, maintaining aerodynamic balance and cooling to the high-performance brakes.
AN EXCLUSIVE ARCHITECTURE
DBX sits on an all-new platform designed exclusively for our SUV. Like all core Aston Martin models, DBX is crafted from aluminium that's bonded not just for strength and toughness, but ultra-lightweight too. DBX is a 5 seater SUV that provides a sumptuous experience for every occupant. It's a world of luxury, with a panoramic sunroof providing a sense of airiness and space for all. A commanding driving position instils a sense of confidence and provides the driver a clearer view of the road ahead.The interior is the most luxurious possible, combining beauty with durability. With three different grades of leather available, as well as the first ever use of woven wool felt in a production road car, this upholstery can be further combined with a choice of seven dashboard veneers, from contemporary wood to carbon fibre and natural flax composite.
ICONIC ENGINEERING
We never compromise in the engineering principles that govern the way all our cars ride and handle, and DBX is no exception. Like all our production sports and GT cars, DBX has double-wishbone front suspension combined with a multi-link rear axle, as well as electronic adaptive damping for every wheel. DBX is the first Aston Martin to use all round air suspension ensuring both outstanding ride comfort and dynamic control. The system allows the ride height to change by up to 95mm from lowest to highest setting; raised to negotiate difficult terrain or lowered to provide easy access and loading.
AN ALL-NEW ADVENTURE
Thanks to lightweight aluminium construction, and its world-leading Aston Martin powertrain and suspension developed by the finest engineers of their kind, DBX drives like no other SUV. It drives like a sports car. DBX is an SUV with a V8 engine that offers an exhilarating 550PS power output, backed by 700Nm of torque. That power is delivered over the widest possible range, focused on providing instant throttle response. For multi-terrain driving, two Terrain modes adjust the suspension and all-wheel drive systems to suit the surface. Power is intelligently directed through our bespoke all-wheel drive system, capable of sending power almost exclusively to the rear wheels for maximum driving dynamics.
*PRICE(S) INCLUDE(S) ALL COSTS TO BE PAID BY A CONSUMER, EXCEPT FOR $497 DOCUMENTATION FEE, LICENSING COST, REGISTRATION FEES, AND TAXES.
CURRENTLY, FC KERBECK DOES NOT SELL OR LEASE CARS IN THE STATES OF MT, OR, NH OR AK, SORRY FOR ANY INCONVENIENCE. FC KERBECK MAKES EVERY EFFORT TO PROVIDE FULL AND ACCURATE INFORMATION. HOWEVER, BECAUSE ERRORS MAY OCCUR, PLEASE CONTACT US TO VERIFY OPTIONS, PRICES AND REBATE/INCENTIVE INFORMATION BEFORE PURCHASING. ALL VEHICLES ARE SUBJECT TO PRIOR SALE. ALL NEW VEHICLE PRICES INCLUDE THE DESTINATION CHARGE (FREIGHT COST). ALL PRICES EXCLUDE STATE TAXES AND FEES, MOTOR VEHICLE REGISTRATION CHARGES, AND PROCESSING FEES. ALL TAXES AND FEES WILL BE PAID TO THE LEGALLY APPROPRIATE STATES. PRICES MAY NOT BE COMBINED WITH ANY OTHER PAST, PRESENT, OR FUTURE OFFERS OR ADVERTISED PROMOTIONS OR SPECIALS. PRIOR SALES, INBOUND AND ORDERED VEHICLES EXCLUDED FROM CURRENT PRICE OFFERS. SALE TO ULTIMATE RETAIL CONSUMER ONLY, ONE VEHICLE PER CUSTOMER. NO SALE OR LEASE TO AUTO DEALERS, DEALER'S AGENTS, MANAGEMENT, SALES STAFF OR EMPLOYEES OF DEALERS, LEASING COMPANIES, BROKERS, EXPORTERS, ETC. NO SALE TO ANY PERSON OR COMPANY APPEARING ON ANY EXPORT LIST OR WHICH HAS THE SAME ADDRESS AS ANY PERSON OR COMPANY APPEARING ON ANY EXPORT LIST. TO THAT SAME END, FC KERBECK RESERVES THE RIGHT, AT ANY POINT DURING A TRANSACTION, TO PREVENT SALE TO ANY PERSON OR COMPANY THAT MAY NOT BE A PERMANENT RESIDENT OF THE US, MAY LIVE OR WORK OUTSIDE OF THE US.
We disclose every pre-owned vehicle with a minimum of $1000 prior repairs, when most dealers fail to disclose any/all repairs. Our goal is to provide you with the details of the vehicles history so you can buy with confidence here at Kerbeck.
BBB RATING: A+
HOURS OF OPERATION:
Monday-Friday: 9:00AM - 8:00PM
Saturday: 9:00AM - 6:00PM