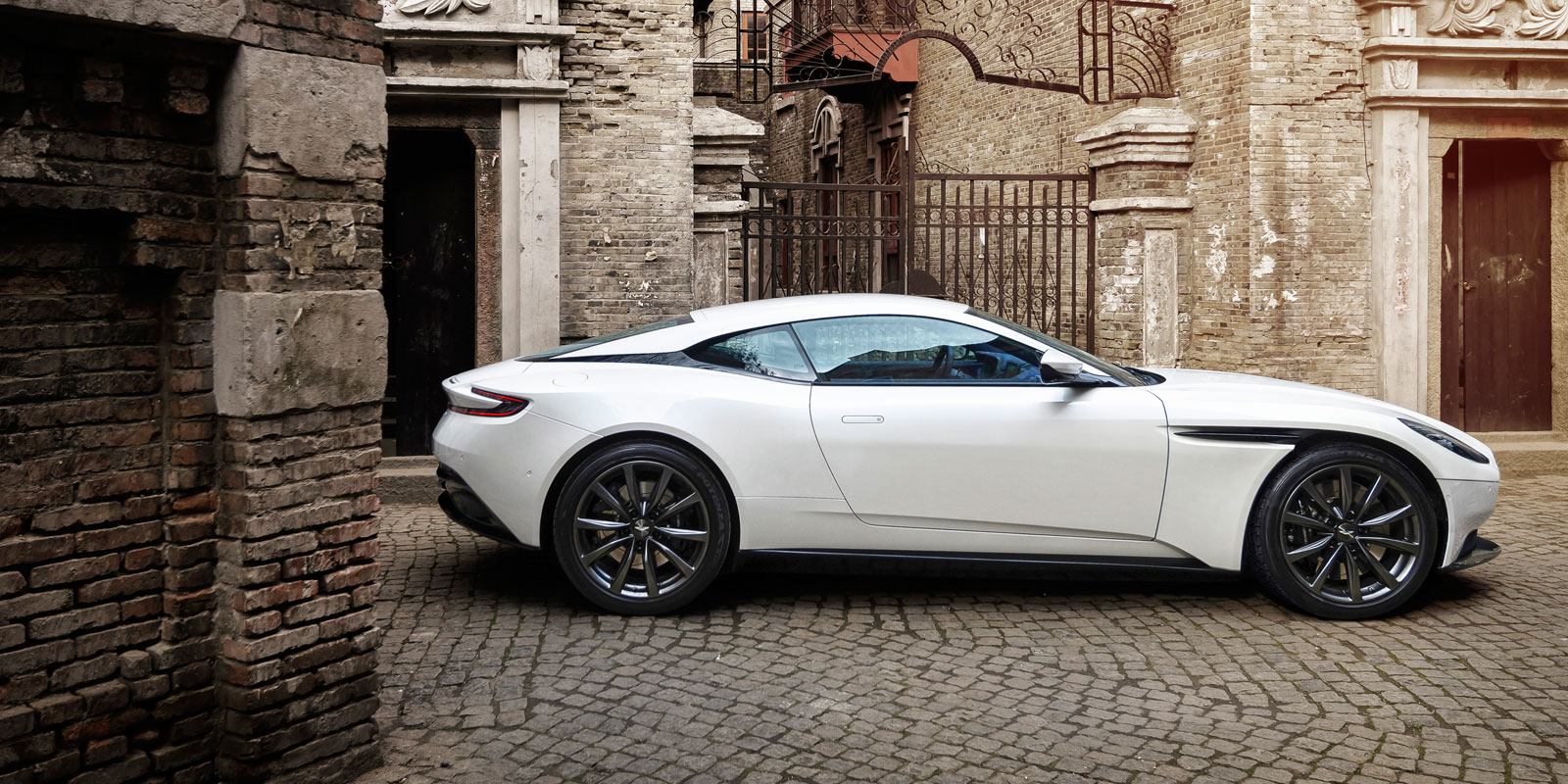 Elegantly Crafted
After its successful global introduction in 2016, Aston Martins definitive GT – the acclaimed DB11 – is now available with a 4.0-litre twin-turbocharged V8 engine. Perfectly complementing the DB11s existing 5.2-litre twin turbocharged V12 engine, this new powerplant has provided the opportunity to reveal more of the DB11s sporting character, while expanding its global appeal with a combination of exceptional performance and improved efficiency.
Producing 510PS (503BHP) and 675Nm of torque, the V8 engines potency is beyond question, propelling the DB11 from 0-62mph in just 4.0sec and on to a top speed of 187mph. This exceptional performance is matched by impressive efficiency: CO2 emissions of 230g/km1and an EU Combined fuel economy figure of 28.5mpg1.
Instantly recognizable, familiar elements have been reinterpreted. The iconic grille – amplified, celebrated. Striking features like the clamshell hood and Aston Martin Aeroblade™ elevate DB11 to automotive art.
DB11's design is inherently right, yet utterly different. From a structure of beautiful proportion its shape develops organically, surface lines emanating from nose to tail in both the Coupe and Volante.
Designed for Life
With a luggage compartment that can swallow two golf bags, this exhilarating Grand Tourer fits perfectly with your lifestyle. Compared to the previous DB models, the door apertures are much larger. Occupants of the front seat enjoy 10 mm of extra headroom, while rearwards, a 54 mm increase in headroom and 87 mm more legroom mean DB11 is a true 2+2 automobile. Aston Martin engineers have ensured that the DB11 is a thrill for all of your senses.
Its design looks inherently right, yet utterly different. Familiar elements have evolved making it recognizable. The iconic radiator grille has been reinterpreted, its lines and features amplified and celebrated. All-new LED head and taillights create expressive visual signatures.
Triumphant new elements, such as the dramatic roof strake, underline DB11s confidence and originality.
Ultimate Comfort
Once you are inside the DB11 you will discover the ultimate in comfort and convenience. The result of craftmanship and sumptuous natural materials, the highest levels of craftsmanship, and state-of-the-art climate control and infotainment technology bring an overall excellent experience. With large reserves of power, delivered as the revs climb, with a rich and potent howl the DB11 is effortlessly potent. The interior can be perfectly in-tune with your unique style, thanks to an inspiring palette of colours and a vast array of detailing options.
Strong and Adaptable
DB11 exploits its inner strength and immense performance with completely re-worked chassis, suspension, steering and electronics. Revised suspension with adaptive damping and multiple driver-selectable dynamics enrich DB11's adaptability. Underpinned by a new bonded aluminum body structure that combines lightness and strength, DB11 sets a formidable new standard for sporting Grand Tourers and takes the legendary DB lineage to unprecedented heights. DB11's body structure was designed to be stronger, safer and more dynamic. Increasing the wheelbase by 65 mm meant the V12 could be positioned further back for near-perfect weight distribution. DB11's V8 and V12 twin-turbo engine choices, produce 503bhp and 630bhp respectively, both offer a combination of exceptional performance and improved efficiency. Intelligent cylinder bank activation makes it the cleanest, most fuel-efficient DB ever. Effortlessly potent, DB11's engine choices deliver a rich and characterful sound all the way to 7000 rpm.
Three driver-selectable dynamic modes enrich its performance; switching between GT, Sport and Sport Plus will adjust the intensity of the drive. Select GT mode for exemplary ride quality, or switch to Sport for added firmness and agility. Selecting Sport Plus entirely turns-up the intensity; suspension, steering, 8-speed automatic transmission and Torque Vectoring system work in unison to truly awaken the sports car within. Such are the tremendous advances made by this landmark car that the DB11 is the cleanest and most fuel-efficient DB ever produced. Intelligent bank activation means DB11's appetite for the open road is not matched by thirst. By alternating between banks of cylinders during low demand periods, less fuel is consumed. Full performance is immediately restored on driver demand.
Supreme Infotainment
Following on from the leap forward DB11 Coupe made in technology with new infotainment, Auto Park Assist and a fully digital instrument cluster the Volante introduction ties up further optional advancements available across the DB11 range. Now available with Steering Wheel Heating and Blind Spot Assistance, driver comfort and convenience has never been better from Aston Martin. The new satellite navigation and audio system are easier than ever to operate (Aston Martin Premium Audio or Bang & Olufsen BeoSound system upgrades available). A full-colour 12 TFT LCD displays primary vehicle information with complete clarity, while a second, centrally-mounted 8 TFT screen is dedicated to infotainment.
*PRICE(S) INCLUDE(S) ALL COSTS TO BE PAID BY A CONSUMER, EXCEPT FOR $497 DOCUMENTATION FEE, LICENSING COST, REGISTRATION FEES, AND TAXES.
CURRENTLY, FC KERBECK DOES NOT SELL OR LEASE CARS IN THE STATES OF MT, OR, NH OR AK, SORRY FOR ANY INCONVENIENCE. FC KERBECK MAKES EVERY EFFORT TO PROVIDE FULL AND ACCURATE INFORMATION. HOWEVER, BECAUSE ERRORS MAY OCCUR, PLEASE CONTACT US TO VERIFY OPTIONS, PRICES AND REBATE/INCENTIVE INFORMATION BEFORE PURCHASING. ALL VEHICLES ARE SUBJECT TO PRIOR SALE. ALL NEW VEHICLE PRICES INCLUDE THE DESTINATION CHARGE (FREIGHT COST). ALL PRICES EXCLUDE STATE TAXES AND FEES, MOTOR VEHICLE REGISTRATION CHARGES, AND PROCESSING FEES. ALL TAXES AND FEES WILL BE PAID TO THE LEGALLY APPROPRIATE STATES. PRICES MAY NOT BE COMBINED WITH ANY OTHER PAST, PRESENT, OR FUTURE OFFERS OR ADVERTISED PROMOTIONS OR SPECIALS. PRIOR SALES, INBOUND AND ORDERED VEHICLES EXCLUDED FROM CURRENT PRICE OFFERS. SALE TO ULTIMATE RETAIL CONSUMER ONLY, ONE VEHICLE PER CUSTOMER. NO SALE OR LEASE TO AUTO DEALERS, DEALER'S AGENTS, MANAGEMENT, SALES STAFF OR EMPLOYEES OF DEALERS, LEASING COMPANIES, BROKERS, EXPORTERS, ETC. NO SALE TO ANY PERSON OR COMPANY APPEARING ON ANY EXPORT LIST OR WHICH HAS THE SAME ADDRESS AS ANY PERSON OR COMPANY APPEARING ON ANY EXPORT LIST. TO THAT SAME END, FC KERBECK RESERVES THE RIGHT, AT ANY POINT DURING A TRANSACTION, TO PREVENT SALE TO ANY PERSON OR COMPANY THAT MAY NOT BE A PERMANENT RESIDENT OF THE US, MAY LIVE OR WORK OUTSIDE OF THE US.
We disclose every pre-owned vehicle with a minimum of $1000 prior repairs, when most dealers fail to disclose any/all repairs. Our goal is to provide you with the details of the vehicles history so you can buy with confidence here at Kerbeck.
BBB RATING: A+
HOURS OF OPERATION:
Monday-Friday: 9:00AM - 8:00PM
Saturday: 9:00AM - 6:00PM